Christina Moore - Pastor -

yahoo.com@cmoorediva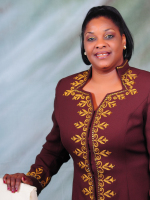 Biography of Pastor Christina Moore
Pastor Christina Moore is a resident of Vero Beach, Florida. She answered the call to salvation in March of 1992. She was spiritually birth in the Apostolic Doctrine by her mother and mentor, the late Dr. Martha McGriff Ferguson.
Pastor Moore is an Honorable Discharge Veteran of the United State Navy. Professionally, she is a degreed certified paralegal. She was affirmed in the office of a Prophet through the Janet C. Moragne (Apostle) Schools of Prophets.
Pastor Moore's heart pulse is to be a repairer of the breach, bring restoration and provide insight to empower individuals to become productive spiritually and naturally.
Pastor Moore has been described as a hand-maiden of God, an anointed spiritual warrior, a vessel of honor and a pearl in a dry desert. God has endowed her with an anointing that is combustible. Pastor Moore is one that will cry loud and spare not. She seeks to deliver that which God has presented unto her to His flock.